Established in June 2015 as a tax-exempt non-profit corporation under Section 501(c)3 of the Internal Revenue Code, DSC Foundation's sole mission is to support the mission and vision of DSC by being the charitable giving and receiving arm of the organization. Gifts to DSC Foundation are deductible as charitable donations as permitted under Section 170 of the Internal Revenue Code.
Our Mission
DSC's mission, and the mission of the Foundation, is to ensure the conservation of wildlife through public engagement, education and advocacy for well-regulated hunting and sustainable use.
Our Vision
The vision of DSC is a society that values wildlife, engages in its conservation and understands and supports the role of well-regulated hunting in the sustainable use of wild resources.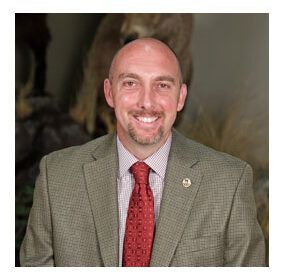 Corey Mason is the CEO for DSC and the DSC Foundation, and is a true leader among international conservation organizations. Corey is a proud member of the IUCN.  As CEO of DSC, Corey oversees all of DSC's staff, programs, growth, and mission execution.  He works extensively with federal and international delegations, policy makers, and like-minded conservation organizations to support conservation and sustainable use of our natural resources.
Corey serves on the national Hunting and Shooting Sports Conservation Council, Congressional Sportsmen's Foundation Board, Frontline Foundation Board, state Advisory Committees for mule deer, whitetail deer, and desert bighorn sheep, and is a member of IUCN's Sustainable Use and Livelihoods Group. He is a Past President of the Texas Chapter of The Wildlife Society.
Prior to his work at DSC, he had a 16-year career with the Texas Parks and Wildlife Department where he held the positions of Regional Director, Program Leader, and Management Area Biologist.
Corey is a published author, including both popular and peer-reviewed scientific articles.  He is a Certified Wildlife Biologist® and holds both Bachelor's and Master's degrees in Wildlife Management.
DSC Foundation Board of Directors
Corey Mason                              CEO
Russell Stacy                              President
Scott Tobermann                        Vice President
Abe Nayfa                                   Secretary
Craig Dixon                                 Treasurer
Larry Herwig                               Director
Dave Fulson                                Director
Benjamin P. Carter                   Director
Larry Weishuhn                          Advisory to the Board
Tim Fallon                                   Advisory to the Board
Brian Fienhold                            Director of Operations & Development