The DSC Foundation Legacy Award was created to honor hunter\conservationists who, through their passion and dedication, have left more than their personal mark on the past. This Award was created to recognize their many contributions to the future, and to the Legacy of Conservation Through Hunting.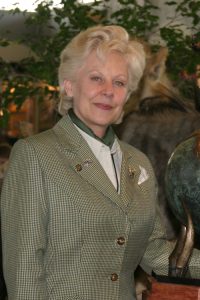 Fiona Capstick
DSC Foundation was proud to announce Fiona Claire Capstick as the recipient of the annual DSC Foundation Legacy Award at the 2022 Gala.
Fiona Claire Capstick was born in and remains a citizen of South Africa, yet the career and interests of this extraordinary woman have provided her the opportunity to travel much of the globe as she created a life filled with service, exploration, and adventure.
A gifted and University-trained linguist, Fiona was recruited into the Military Intelligence Division of the South African Army, then the South African Defense Force as a multilingual translator and interpreter.
While serving in the military, a chance meeting with then Professional Hunter, and eventual best-selling book author Peter Hathaway Capstick changed her life forever.
Fiona soon was gaining 'boots on the ground' experience in many of Africa's storied game fields as she accompanied Peter on multiple major safaris. The first hand realities she learned of the critical role hunting plays in the survival of the wildlife, and the benefit it provides the rural peoples living alongside wild and often dangerous game, became the foundation of her continuous and vocal role as an outspoken and knowledgeable proponent of the international hunter\ conservationist.
In the last seventeen years Fiona has sponsored the annual DSC Peter Hathaway Capstick Hunting Heritage Award, as well as producing the audio-visual presentations seen at the annual Convention. This Award, which is international in scope, has brought honor to an exceptional range of individuals and organizations who embody the role of Hunter\ Conservationists.
Today, Fiona Capstick is among the most respected voices on the international conservation stage.  Equally important, she is one of the world's most effective and dedicated voices for the promotion of ethical hunting as a prime conservation tool of wildlife and habitat. Nowhere will you find a finer spokesperson to represent the truth behind our DSC battle cry of "Conservation Through Hunting".